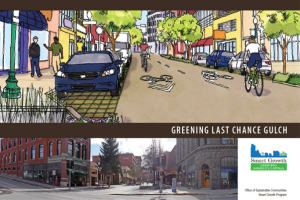 In the fall of 2012, I was leaving a job site in Big Sky when I received a call from Community Design & Architecture, based in Oakland, California. They asked if I would be interested in being on their design team for the EPA's "Greening America's Capitals" project, for Helena, Montana. They interviewed me over the phone, and said they'd get back to me within the next week.
I was delighted to be offered a position on the team, and enthusiastically accepted. Our first task was to submit our qualifications and technical approach to the EPA. There were four other teams submitting applications; fortunately, our team was awarded the project.
Greening America's Capitals is an EPA program to help state capitals develop an implementable vision of environmentally friendly neighborhoods that incorporates innovative green infrastructure strategies. Helena also wanted to improve traffic flow, create safer crossings for pedestrians and bicyclists, and improve the connection between historic downtown and the newer commercial district to the north.
This design process involved walking around downtown Helena in January with the other members of the design team. We defined several key intersections to focus on and began creating schematic designs, incorporating rain gardens, permeable paving, bike lanes, and stormwater swales. Adjusting vehicle traffic to create a pedestrian and bicycle friendly experience was also an objective.
I worked with the other members to ensure that the landscape design and other design elements and concepts properly and creatively considered the local eco-region, cul­ture, and economy of Helena.
We had a three-day design charrette with Helena City officials, as well as with business owners and residents. We also gave two public presentations, from which we received ample feedback.
Based on the feedback from these meetings, we revised the design schemes, and provided the final report. Helena can utilize this report for funding and grants to begin to implement these design ideas, which include green infrastructure and native plants.
I am looking forward to visiting Helena over the years and seeing these green infrastructure ideas become reality.
You can see the final report on the EPA's website, or here: http://www.epa.gov/smartgrowth/pdf/greencapitals/helena-greening-last-chance-gulch.pdf.