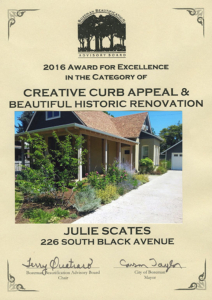 2016 Award for Excellence
Creative Curb Appeal & Beautiful Historic Renovation. Bozeman, Montana
City of Bozeman provides yearly "Beautification Awards" to landscape design firms, homeowners and builders. Beth MacFawn Landscape Design, was nominated for her landscape design for this South Black residence, and was awarded a Beautification Award for Creative Curb Appeal.
The creative approach that Beth took was to take advantage of the homes setback within the city lot. This provided an opportunity for large planting beds, which have colour April through October, provide cut flowers for homeowner, and curb appeal for the passerby.
This project was a complete remodel of historic home, and a new landscape, which was nominated by the homeowner's neighbour. Beth is honoured to work on unique projects that enhance the streetscape, and which the owners, neighbours and city acknowledge.